I. Introduction
Marshall Amplification is a British company that designs and manufactures music amplifiers, speaker cabinets, brands personal headphones and earphones, drums and bongos. ATSCADA Lab is pleased to cooperate with Marshall on the design of production management software.
The software package helps to optimize costs as well as labor in the production process.
Managers can easily grasp the production situation at the production lines and operate in a more reasonable manner.
Strict supervision of the production process on LED display panels and TV screens helps workers work more efficiently.
II. Production Management System
Hardware
– Barcode: Barcode is used to scan code on product. Each scan will count up 1 unit.
– Smart TVs: hung at the production line. Display the software interface for workers in the production line to observe.
– LCD Screen: screens are located in offices. Display software interface for manager to monitor and export reports.
– IPC ATBOX-J1900: ATBOX-J1900 is a fanless industrial computer operating 24/7.
ATBOX-J1900 runs production monitoring, data processing, storage and reporting for the production system.
>>> Reference: ATBOX series
Production management software
Winform software monitors directly on PC, connects to hardware in production monitoring system.
Functions:
– Allows entering the values: Model, Leader, Operator, Target from software to the display panel.
– Collect quantities from barcode readers displayed on the software (Real-Time).
– Draw real-time, historical trends.
– Storing data in MySQL database.
– Export reports to excel file as data table and graphs.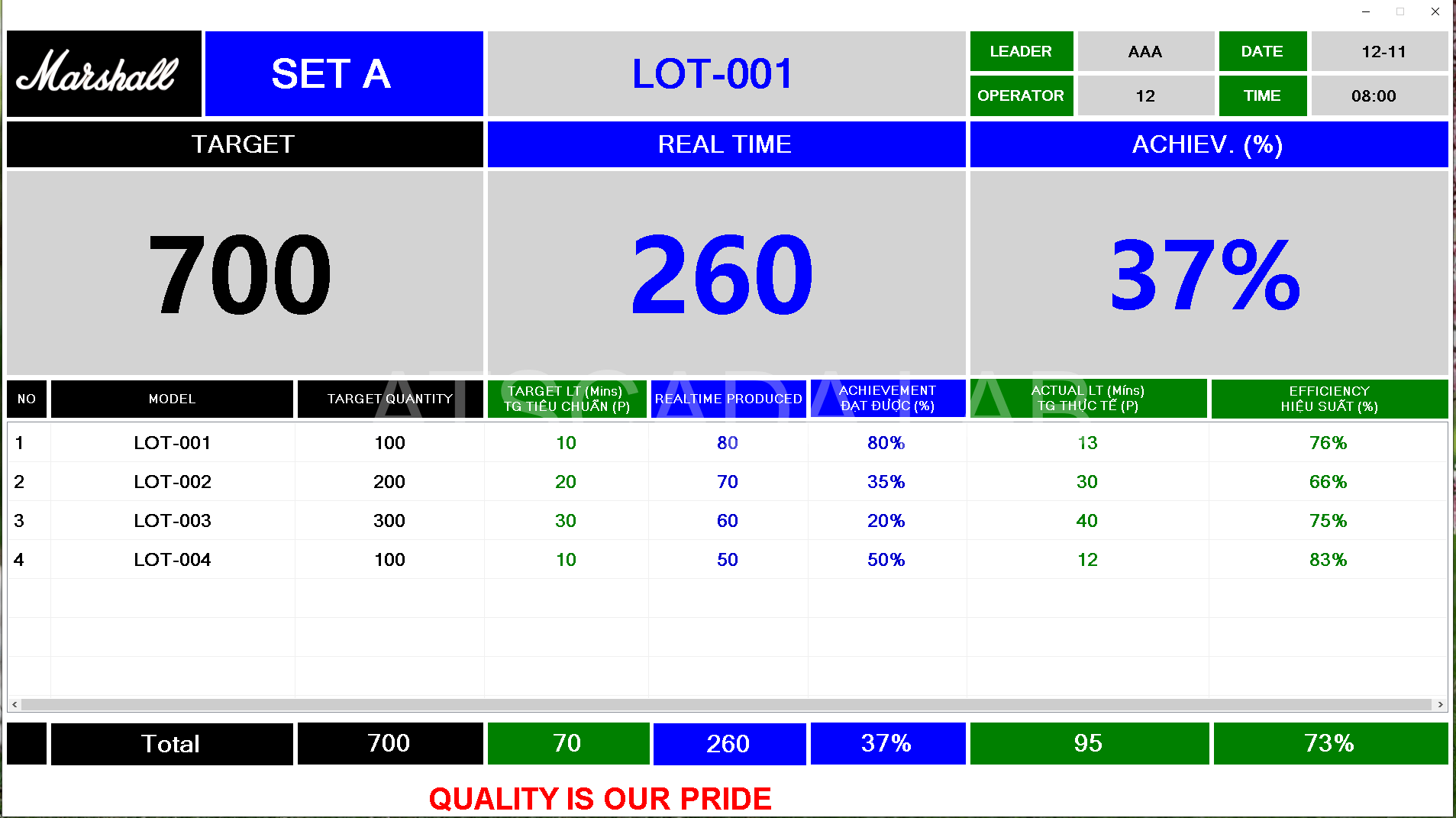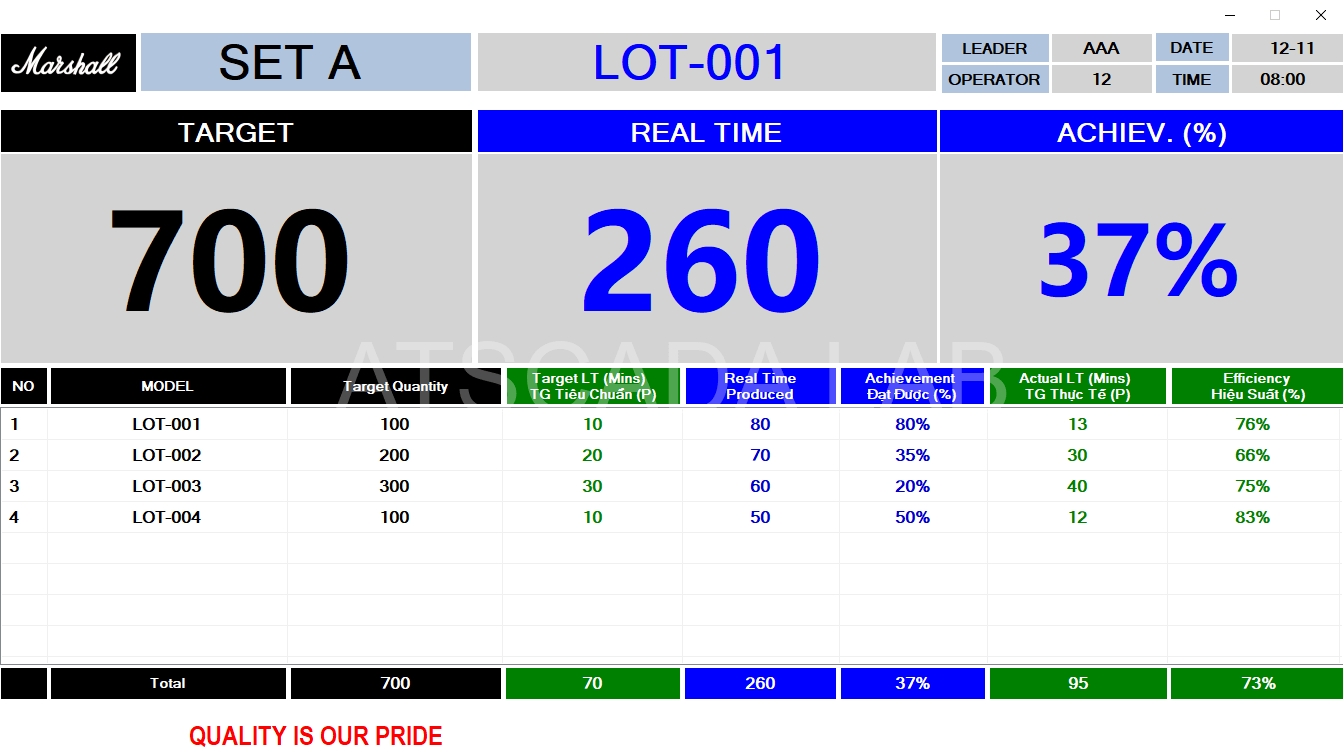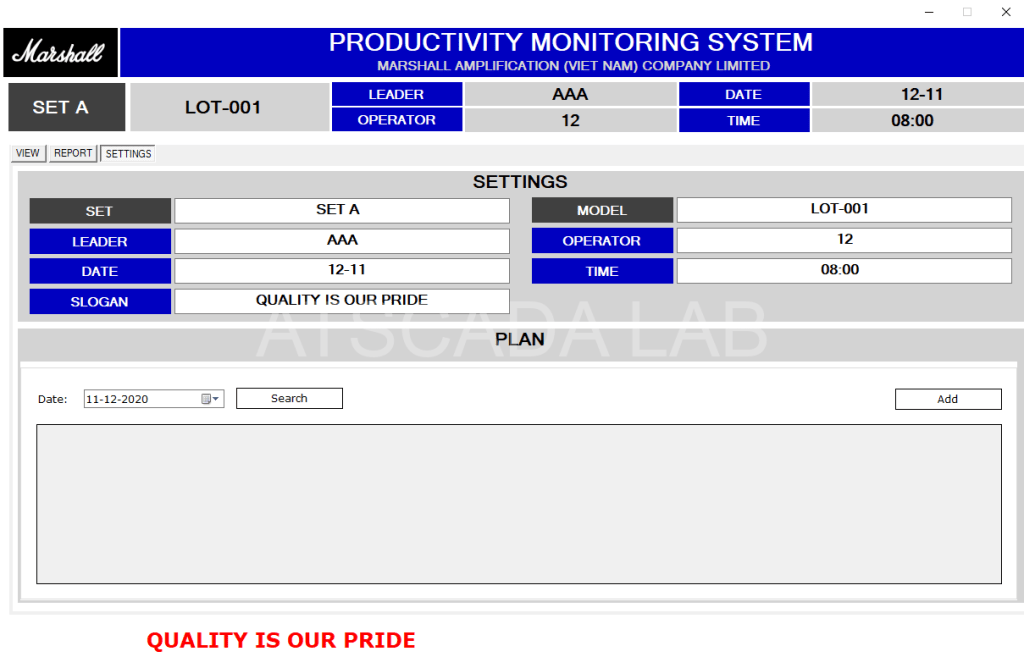 Software interface designed by ATSCADA Lab, responding from features to interfaces according to customer requirements.
>> Check out our other projects here.
Contact
If you are interested in the Production Management Software, please contact us. Hotline: (+84) 28 3842 5226 – ext. 103 or (+84) 909 965 380.

ATSCADA - Providing ATSCADA software - The monitoring and data acquisition control system is the appropriate choice for integrated system projects, IoT, smart city projects, agriculture 4.0... Is trusted by many customers.