Product Description
ATBOX-U01 SSD 32G được thiết kế với khung nhôm đa năng, hệ thống không quạt đảm bảo hoạt động ổn định 24/24 không gây ồn.
CPU Intel Baytrail Celeron J1900 2.0-2.42G.
1 * DDR3L 1333 MHz SODIMM, tối đa 8GB.
4 * Intel I210-AT PCIe Gig LAN.
1 * HDMI và 1 * VGA, Audio Line out, Mic.
1 * USB3.0, 6 * USB2.0, 6 * COM, DIO 24 bit.
1 * Mini PCIe (PCIe + USB), 1 * Mini PCIe (SATA + USB) 1*3.5″ SATA3 Bay and 1*mSATA.
Nguồn cấp: DC 9 ~ 36V.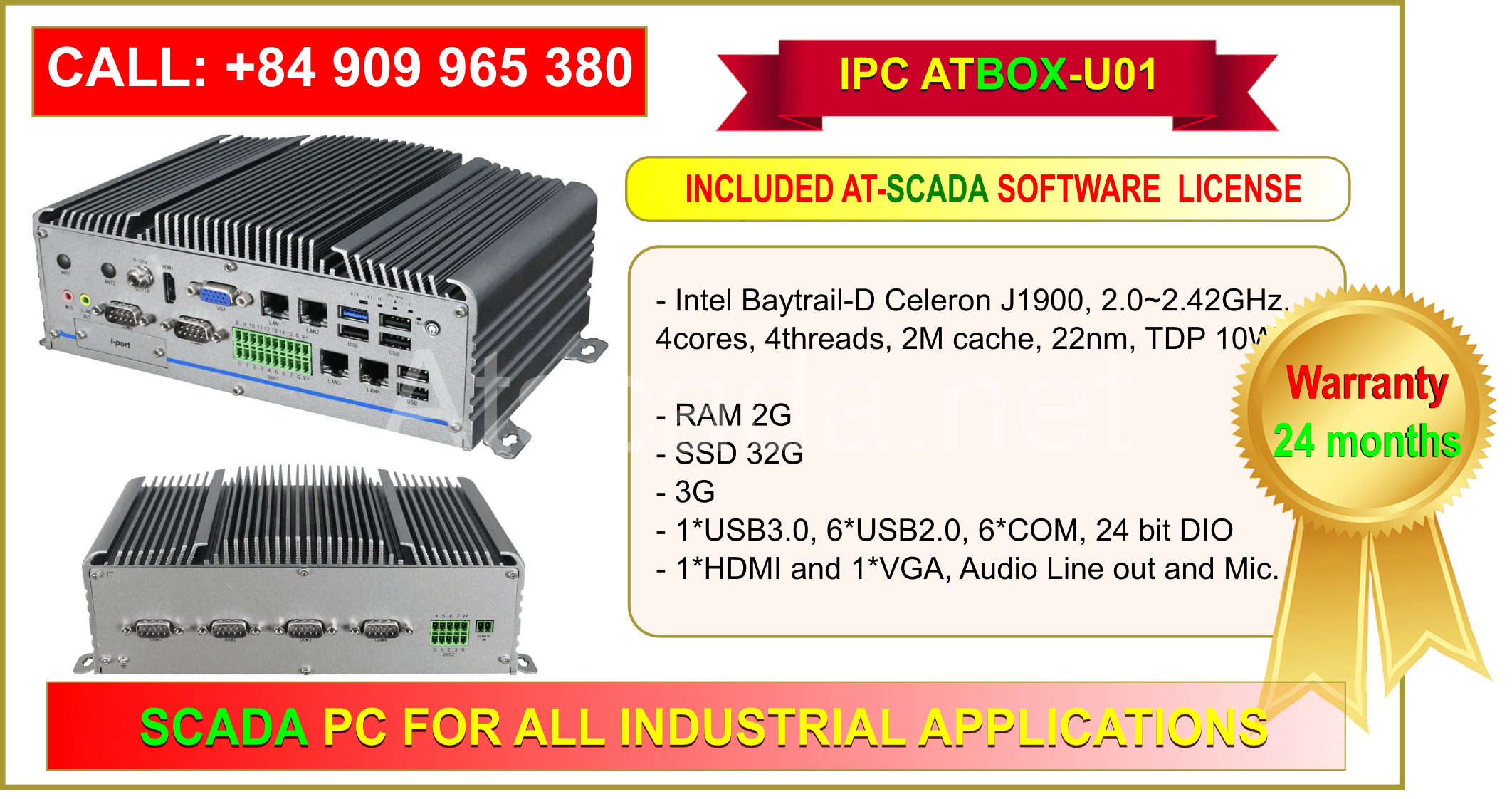 ATBOX-U01 SSD 32G chạy phần mềm ATSCADA bản quyền
– Full tính năng SCADA: thu thập dữ liệu, lưu trữ dữ liệu, vẽ đồ thị, xuất báo cáo,…
– Không giới hạn số lượng Tag.
– Kết nối đa dạng với các loại PLC.
– Server SCADA phân tán.
Thông số kỹ thuật ATBOX-U01 SSD 32G
System
CPU
Intel Baytrail-D Celeron J1900 , 2.0~2.42GHz, 4cores, 4threads, 2M cache, 22nm, TDP 10W
System Memory
1*DDR3L 1333MHz SODIMM, Up to 8GB
Expansion
1*Full size Mini PCIe with PCIe X1(4LAN Non PCIe) and USB with SIM slot, support 4G LTE/Wifi/BT etc.;

1*Full size Mini PCIe with USB+SATA3 signal use to be mSATA

Graphics
Intel HD Graphics, VGA resolution 1920*1200@60Hz, HDMI resolution 1920*1080@60Hz, Dual independent display , Support OpenGL 3.2, DirectX 11, OpenCL 1.2, MPGE2/H.264
Audio
Realtek ALC662 HD Audio , 5.1 sound channel, Inside 3W left/right amplify speaker header
LAN
4*Intel I211AT PCIe Gigabit Ethernet, Integrated 10/100/1000M transceiver
KB & MS
USB keyboard and mouse
Storage
1*3.5″ HDD bay, SATA2 3.0Gbps, cooling by aluminum cover;

1*mSATA full size, dual AHCI

DIO
24 bit TTL signal, Programmable input and output
I-port
Optional 1*USB2.0 or Mini PCIe module I/O ports(such as CAN Bus, Gig LAN etc.)
I/O Ports
4*RJ45 LAN with LED(Front);

1*USB3.0 Type A and 5*USB2.0 Type A(Front), 1*USB2.0 Type A (Inside)

2*10Pin 16bit DIO terminal connector (Rear); 2*5Pin 8bit DIO terminal connector(Rear)

2*RS232/422/485 and 2*RS232 Db9 connector(Rear), 2*RS232/485 Db9 (Front)

1*HDMI and 1*VGA(Front); 1*Line-out and 1*Mic, dual 3.5mm phone jack(Front)

1*2pin terminal connector, with power sw signal(Rear)

LED
1*Power on LED, 1*HDD Run LED, 3*CPU temp. LED(Red: High, Yellow: Typical, Green: Low)
Control SW
1*Power sw(Front), 1*2pin term. power sw (Rear), 1*AT/ATX Select dip(Front)
Power Supply
DC 9~36V Input, D-Jack with M8 screw (Front); Consumption: TBD 12V/1.6A(3.5″ HDD)
Watchdog Timer
Watchdog timeout programmable via software 1 to 255 second
OS Support
Windows 7, Windows 8.1, Windows 10, Linux Fedora Ubuntu
Mechanical
Structure
U form Aluminum Chassis, SGCC frame
Color
Silvery
Mounting
Desktop mounting
Dimension
(W*H*D):210*144*82.7mm
Net Weight
2.60kg
Environmental
Operating temperature
-20°C~70°C – Fanless with wide operating temp. SSD, Airflow

-10°C~55°C – Fanless with HDD, Airflow

Storage temperature
-40°C~85°C
Storage humidity
10~90%@40°C, Non-condensing
Vibration
5 grms/5~500Hz/random/in working(SSD); 1 grms/5~500Hz/random/in working(HDD)
Shock
50g peak acceleration(11ms duration)(SSD); 20g peak acceleration(11ms duration)(HDD)
Quý khách quan tâm đến Sản phẩm ATBOX-U01 SSD 32G, phần mềm ATSCADA bản quyền vui lòng liên hệ hotline để được tư vấn giải pháp tối ưu, tiết kiệm chi phí nhất.